Jurassic World: Dominion Dominates Fandom Wikis - The Loop
Play Sound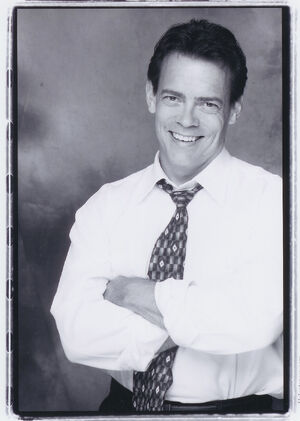 Ron Pardo is a Canadian actor, voice actor, and impressionist. On PAW Patrol, Ron has voiced Cap'n Turbot (Adventure Bay's marine biologist and one of the PAW Patrol's best friends) since the first episode. He later voiced the breakout villain Mayor Humdinger as well as various other characters.
He was raised in Pardoville, Ontario (named for his ancestors), a small farming hamlet near Chatham and went to school in nearby Blenheim. He later studied radio and television at Ryerson University in Toronto, followed by working on-air and as a copywriter at CFCO Radio in Chatham. Pardo later attended the University of Western Ontario in London to study education, and worked as a teacher for a few years in Cambridge, Ontario.
He realized early on that he had a talent for mimicry, first of cartoon characters and later of celebrities. In 1993 he decided to see if he could make a career of comedy and in 1995 he resigned his teaching position, having won Yuk Yuk's Search for Canada's Funniest New Comic Award. He headlined at comedy clubs and corporate events for several years.
In 1997, Pardo came to the attention of former Frantic Rick Green, who hired Ron to perform his characters for the pilot of Rick's new show History Bites. Pardo starred on the show for five seasons, plus several specials, receiving ensemble cast Gemini Award nominations in 2000, 2005, and 2008.
In March 2008, the animated TV series World of Quest began airing on the Kids WB on The CW Television network in the U.S. Pardo provides the voice of the title character Quest, his sidekick, Graer, as well as numerous supporting characters in the show. He also plays Michael Gehabich, Hal-G, Fortress, Clayf, Kato and more in the animated TV series Bakugan Battle Brawlers.
He was also the voice of Maxum Man in Sidekick, Marvin and Stripes in Marvin the Tap-Dancing Horse, the later voice of Newton in Ned's Newt, the Narrator in the English version of Spider Riders, and Rupert McKenzie in Bob & Doug, for which he received a 2010 ACTRA outstanding voice performance nomination.
His other animated voicework includes roles in: PAW Patrol, Zerby Derby, Almost Naked Animals, The Cat in the Hat Knows a Lot About That!, Numb Chucks, Zack & Deuce, Grojband, Camp Lakebottom, Fugget About It, Redakai, Sons of Butcher, Crash Canyon, Bob and Margaret, Turbo Dogs, What It's Like Being Alone, Busytown Mysteries, Medabots, The Dumb Bunnies, Quads!, The Ripping Friends, Atomic Betty, Moville Mysteries, Beyblade, The Berenstain Bears, Cyberchase, Ace Ventura: Pet Detective, Rescue Heroes, Gerald McBoing Boing, Storm Hawks, Jacob Two-Two, Di-Gata Defenders, Pippi Longstocking, Funpak, Peep and the Big Wide World, Totally Spies!, My Dad the Rock Star, Captain Flamingo, Committed, Coolman, Carl Squared, Children of Chelm, Braceface and Subconscious Password. Pardo also voices many TV and radio commercials.